Instructor: Jacalyn Whiteman Marosi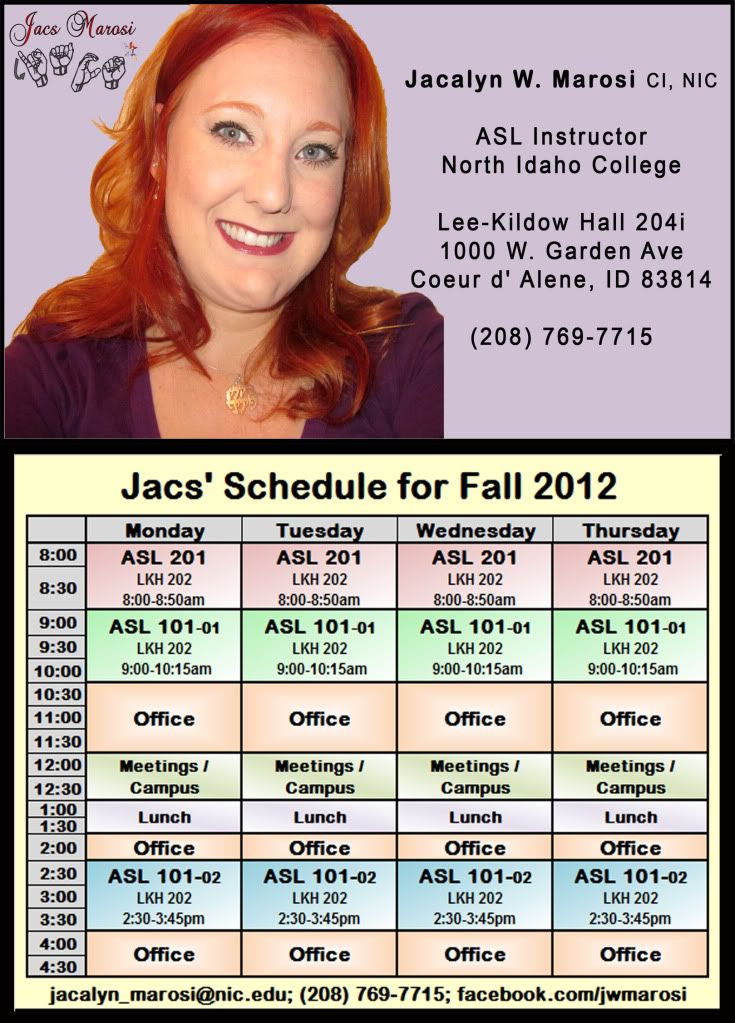 If for some reason you are not getting through to my NIC or Blackboard address, here's one of my personal addresses that I often give students: [email protected]
Description
---
Intermediate American Sign Language I is designed for students continuing from ASL 102. It continues the learning process in visual-gestural environment, and enforces linguistic/grammatical principles in the use of the target language. The English Glossing and Transcription systems will be introduced to help accelerate vocabulary acquisition. This course includes interactive activities, cultural awareness education, and individual feedback. Emphasis is on appropriate language use in common and uncommon communication settings. This course fulfills the Cultural Diversity requirement for the A.A. degree, and fulfills the Foreign/Modern Language requirement for the A.S. degree. Lecture: 4 hours per week
Materials
---
Required Texts for ASL 201 & 202.
American Sign Language Green Books, A Student's Text Units 1-9
Author: Charlotte Baker-Shenk, Dennis Cokely
Publisher: Gallaudet University Press
ISBN: 0-930323-86-6
American Sign Language Green Books, A Teacher's Resource Text on Grammar and Culture
Author: Charlotte Baker-Shenk, Dennis Cokely
Publisher: Gallaudet University Press
ISBN: 0-930323-84-X
Bird of a Different Feather & For a Decent Living
Author: Sam Supalla, Ben Bahan
Publisher: Dawnsign Press
ISBN: 978-0915035229
ASL Vocab Book
printed by the NIC Copy Center, available only at the NIC Bookstore.
Printed Handouts
*You may also be required to print handouts and/or materials that are posted on my class website (Blackboard). I will indicate which handouts are required and which are optional to be printed. If you do not have a printed handout in class when it is due, plan to share with another student as I will rarely have extra copies. If you foresee this as being a continual problem for you, please see me.
Outcomes
---
Critical thinking
Communication
At the completion of this course, the student should be able to...
1. Express: Communicate in the target language for everyday situations
2. Write: Communicate in writing ideas, information, thoughts and messages in the target language.
3. Listen: Receive, attend to, interpret and respond to verbal messages, explanations and instructions in the target language.
4. Receive: Read selections from the textbook and workbook; understand, use recepeive skills, and interpret this written information as well as material such as descriptions, directions, song lyrics and short biographies.

Assessment
---
Grading and Assessments Videotaped dialogues are the main assessment tool used in this course. Each videotaping is worth at least 100 points. When assessing videos, my grade scale begins at an 90%. So, if a student demonstrates the dialogue as expected with no major errors, s/he will earn a 90%. With each mistake the percentage moves down, and when students go above-and-beyond the percentage moves up. A 100% on a videotaping would mean no mistakes as well as incorporating unscripted vocabulary and concepts accurately and appropriately.
*If you have earned a 94% or better by the semester's end, you do not have to take the final exam.
Breakdown
Here is my overall grading scale:
A 94-100%

B+ 87-89%

C+77-79%

D+ 67-73%

F 59% or Below

A- 90-93%

B 84-86%

C 74-76%

D 64-66%

B- 80-83%

*Note: students must pass with a C
or higher to continue to ASL 202

D- 60-63%
Resulting grade and related performance levels
Grade
Range
Notes
Extra Credit
50pts Max

Extra-Credit Points Students will be allowed to earn a maximum of 50 Extra Credit points during the semester. Extra Credit points can be earned in any combination of the following ways:

Language Lab time: every 100 minutes = 10 points
Turning in selected work early
Language Lab Tour for 101 Students
Other specified Extra-Credit opportunities

Even if more Extra Credit points are accumulated, only 50 points will be counted. These points are in addition to the overall points totaled in the course, hence "extra credit". These points will not count against students who do not accumulate these extra points.
Additional Items
---
Other important Information
Method of Course Delivery
Unlike ASL 101-102, spoken English is not forbidden. The goal in ASL 3 and 4 is to prepare you for the real world of bilingual communication. This means that both languages, English (spoken and written) and ASL (signed and transcribed) will be used in different combinations daily.
60% - Target Language: American Sign Language
40% - Native Language: English
Language Lab
Hours of operation for Language Lab: Monday - Thursday, 8:00 - 6:00. Fridays, 8:00 - 2:00. Telephone: 769-3385
Students are required to practice/enhance their skills outside of class. For the receptive activities that are assigned (watching and understanding), I ask that you complete those activities in the NIC Language Lab. The lab is technically called the Lee Hall Annex Building and is located in the small mustard-colored building between the Children's Center and LKH-Gym. You can expect to spend approximately 20 - 40 minutes per week doing activities and/or assignments in the Lab.

The Lab has a reliable, high-speed connection that assures that you will complete your assignments trouble-free. There is a copy of your text including the corresponding DVD that works in the lab. The DVD is also on the Lab computer's hard drives. Most materials in the lab are available for use in the lab only- they cannot be taken home. Please take advantage of this great resource!
Absence Policy & Make-Up Work. You may miss the equivalent of one week of classes, that's 4 absences with no penalty. Each absence after the 4 allowed will result in a 20% attendance grade drop. Once 8 class periods are missed, the student will receive a zero for attendance. Each tardy after the 4th tardy will be counted as an absence. The attendance grade is weighted heavily in relation to your other grading categories in this class.
Exceptions: Some specific circumstances will be counted as an "excused" absence and will not be counted again you in your attendance grade. Note: Students may still be penalized for missing "in class" points.
If you are absent due to an NIC-related function (sports, field trips, etc): Please inform me prior to your absence. Usually the advisor or instructor in charge will offer a letter for you to give to your instructors.
Death in the family: Please show me the obituary or something that indicates time and place of the funeral.
Jury Duty / Court: Please provide me a copy of the subpoena or summons.
Hospitalization: Please provide me with a note from your medical professional which includes dates of hospitalization(s).
Military Service: Please show me your paperwork which includes dates.

Otherwise, it is not necessary to explain why you are absent. When you miss, please check the agenda on Blackboard first. Then contact a peer in class to ask if we followed the schedule and if there was anything else you needed to make up. Then contact me if you need clarification. I will not accept your being absent or tardy as an excuse to not have something done, so please act responsibly.
If you know that you will be absent in advance, talk with me a few class periods prior to your absence so that any arrangements can be made if necessary.
As attendance and participation are vital to your language acquisition, I will give in-class assignments, quizzes, and/or "participation points" at random times that can NOT be made up, even for students who have excused absences. The same rule applies for tardiness. These assignments and/or quizzes will be simple and most usually based on completion, not accuracy. The point is to offer these points as incentive to encourage regular attendance and timeliness.
Division Policies
---
The English/Modern Languages Division has agreed upon a recommendation that students not miss more than the equivalent of two weeks in a single course, which means six absences in a three-day-per-week class, four absences in two-day-per-week class, two absences in a one-evening-per-week class, or two weeks of online participation.
Plagiarism Policy
NIC English/Modern Languages Division

NIC's English Department believes strongly in the ability of its students to:
write works in which they use their own ideas and words
correctly borrow the words and ideas of others
The department's definition of plagiarism comes from the Council of Writing Programs Administrators': In an instructional setting, plagiarism occurs when a writer deliberately uses someone else's language, ideas, or other original (no common-knowledge) material without acknowledging its source.
Using someone else's exact words without using direct quotes.
Paraphrasing or summarizing someone's words or ideas without giving credit to the source's author.
Submitting another's work as the student's own. This includes a purchased paper, a borrowed paper, or portions of another person's work.
Turnitin.com:
NIC now subscribes to a plagiarism-prevention service, called Turnitin.com, which is integrated with our Angel course software. When you turn in your assignments to this site, whether during the drafting process or on a final due date, the software compares your work to many resources on the world wide web, coming up with an "authenticity" report. You will receive more information on this process in class. To avoid plagiarism, cite sources carefully.
Behavior not considered plagiarism but of concern is sloppy documentation of words and ideas borrowed from another source and/or submitting an old paper as new work without the instructor's permission.
In addition to helping students with their current individual writing needs, the Writing Center upholds a student-centered environment that stresses the relationship between strong written and oral communication skills and success both in and beyond college. This environment not only helps students become more critical readers and more competent writers, but also promotes their success across the curriculum and encourages life-long learning.
Click on the link below for additional information.

http://www.nic.edu/websites/index.asp?dpt=105
Student Responsibilities
As students undertake to fulfill the obligations and duties outlined in this document, the college community of which they are a part undertakes to respect the basic freedoms of students. In recognition of students' rights and dignity as members of the college, North Idaho College is committed to the principles found in the NIC Student Handbook.
Center for Educational Access/Disability Support Services
In compliance with the Americans with Disabilities Act of 1990 and Section 504/508 of the Rehabilitation Act of 1973, North Idaho College provides accommodations to eligible students who experience barriers in the educational setting due to learning, emotional / mental, physical, visual, or hearing disabilities. Instructors will provide accommodations to students only after having received a Letter of Accommodation from the Center for Educational Access.

If a student would like to request accommodations, he or she must contact the Center for Educational Access so that a Letter of Accommodation may be sent to the instructor. Students requesting accommodations must contact the Center for Educational Access at the beginning of each semester.
Non-Payment
By registering at North Idaho College, you agree to provide payment by the due dates. You also understand that collection costs and legal fees will be added if the services of a collection agency are utilized.

If you are registered for a class and do not attend, you will still be liable for the tuition unless you drop the class.
Withdrawal
Last day for students to withdraw from semester-length classes for the fall term: November 7, 2011.
Instructor-Initiated Withdrawal: Instructors have the right to withdraw students for academic reasons up until the same date; in doing so, instructors must notify students through NIC e-mail within 48 hours of submitting documentation to the Registrar's office, and students have the right to appeal the instructor's decision. For more information, see the NIC Procedure: http://www.nic.edu/modules/images/websites/121/file/section5/5.04.02procedure.pdf.
Financial Aid Satisfactory Progress Policy: All withdrawals, whether for individual classes, total withdrawal from school, or instructor-initiated are not considered to be satisfactory progress for financial aid. See the Financial Aid Satisfactory Progress Policy: http://www.nic.edu/Websites/index.asp?dpt=29&pageID=1336
Additional withdrawal information: http://www.nic.edu/catalog
Incompletes
An incomplete is assigned only if the student has been in attendance and has done satisfactory work to within three weeks of the end of the semester (or proportional length of time for a course of less than a semester in length). Incompletes are issued only in cases of extenuating circumstances, such as severe illness or injury. Incompletes are not issued in cases in which the student is simply unable to complete his/her work within the specified semester or session. If a final grade of "I" is recorded, the instructor will indicate in writing to the Registrar what the student must do to make up the deficiency. The instructor will indicate in the written statement what permanent grade should be entered if the Incomplete is not removed by the deadline.

All incomplete grades must be removed within six weeks after the first class day of the following term, excluding the summer session. If the Incomplete is not removed by that date, the grade reverts to the grade indicated by the instructor's written statement authorizing the incomplete.
Discrimination and Harassment
North Idaho College has a zero tolerance policy for any acts of discrimination or harassment of any kind. For more information, please see the NIC Student Handbook, Code of Conduct Article III and Article VIII. Compliance efforts with respect to these laws and regulations are the responsibility of each member of the campus community and are under the direction of the Dean of Students Office for Student Issues (2nd floor, ESU, 676-7156) and the Human Resources Office (Sherman Administration Building, 769-3304) for employee issues.
Institutional Statement
---
DROP FOR NON-PAYMENT: By registering at North Idaho College, you agree to provide payment by the due dates. You will be dropped from classes if payment is not received by 5 p.m. Pacific Time on the third day of the semester. Students on the waitlist will be given the option to register for classes after students are dropped for non-payment.
DROP FOR NON-ATTENDANCE: You must attend and participate in the first week of this class. Failure to do so will result in your being dropped from this class and may result in your financial aid award being reduced. For Internet classes, attendance is based on participation in an instructional activity; you must complete the first week's assignment(s) by the assignment due date. Drop for non-attendance occurs at 5 p.m. Pacific Time on the second Tuesday of the semester.